Pembekal Kamera IP Network CCTV Terunggul di Malaysia


Features:
NVRsolo is a Linux-embedded stand-alone system, providing a stable and good quality local display through HDMI or VGA interface. As a network-based surveillance system, NVRsolo processes remote access ability to strengthen its usability.

NVRsolo is compatible with more than 70 brands of IP cameras, with monthly free pack update. It features two useful functions, one-click setup and ezNUUO. One-click setup saves the time in camera configuration by searching and automatically adding cameras in the system. ezNUUO facilitates the process of establishing Internet access to the NVRsolo system, meaning there is no more router settings for remote (IE 8 and IE 9) and mobile viewing (iPhone, iPad, Android).

Being consistent with all the systems in NUUO Mainconsole family, NVRsolo is compatible with NUUO Central Management System, making it appropriate not only for home or SMB recording, but also for chain stores or ATM/bank projects by POS support.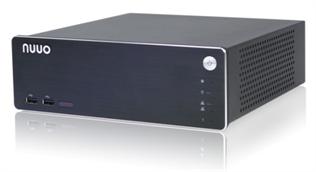 NUUO NVRsolo
Maximum Number of Licenses

1920x1080, 1280x1024, 1280x720, 1024x768

120fps @1080p or 240fps @720p (H.264/MPEG4; MJPEG/MxPEG is with limited

H.264, MPEG-4, MJPEG, MxPEG (depends on IP camera)

Remote Live Viewer (Software), Remote Live Viewer (Web), iViewer (Mobile App)

Remote Client OS

Windows XP (32-bit), Win7 (32 and 64-bit)

Mobile Client Platform

HDD Bays

RAID Level

External Storage

Ethernet Port

External Ports

Audio

Voltage

Power Consumption

Dimensions (H x W x D)

Weight (without HDD)

Temperature (Operating with HDD)

Operating: 0° C ~ 40°C (32°F ~ 104°F)

Humidity (Operating)

Supported Languages

English, Croatian, Czech, Deutsch, Finnish, French, Italian, Japanese, Korean, Polish,

Portuguese (Brazil), Russian, Simplified Chinese, Traditional Chinese, Spanish,
Specifications: